Agadir is a city on the coast in the South of Morocco. This city is blessed with stunning beautiful beaches and great waves. And what is better then exploring this in style? Surf Paradise Morocco is offering daily surflessons in Agadir for beginner, intermediate and advanced surfers in all ages!
World class waves
Walking, running, climbing. Your feet will be put to the test.
fast and easy to learn to surf
The fastest way to reach results is to monitor the progress you make.
For all ages!
We give surflessons for children up to 7years old till people in their 60!
Surflessons in Agadir - Practical info
Times: We pick you up at 10:30 from Agadir.
From here we go to the best spot to surf. The surflessons are ending at 16:00. The transfer brings you back to your accommodation in Agadir.
Sign up: Send an email to reservate your surflessons! signing up is possible till 1 day in advance.
Included:
2 surfsessions of 1,5 hour with surflessons or surfcoaching.
Surfequipment
Surferslunch on the beach
Transfer from the hotel/accommodation
bottle of water
Cool surfpics as souvenir!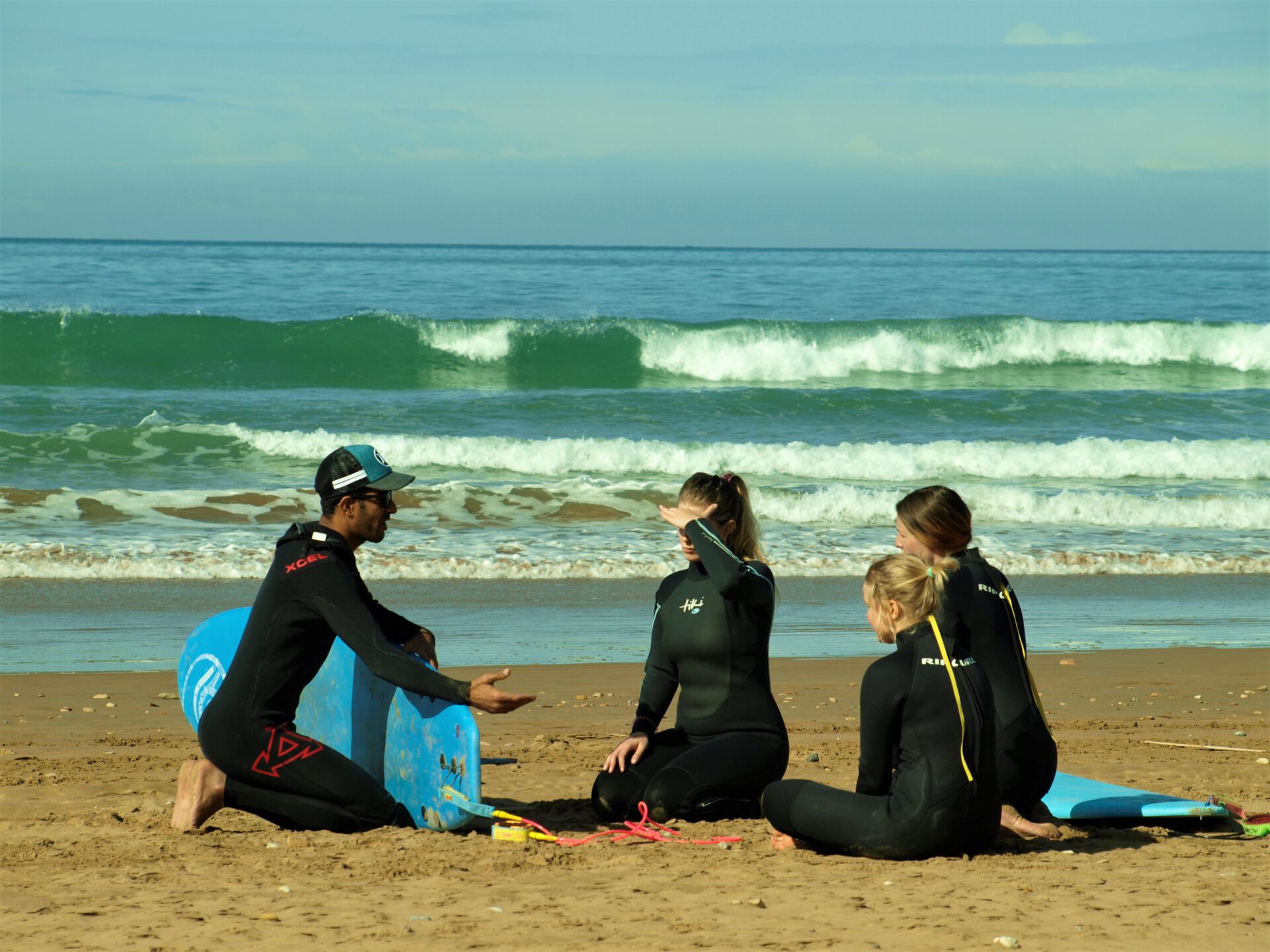 Most common surflessons are starting with all detailed information and a lot of different techniques. It seems to be really difficult to surf. Study shows that when you get to much information your brains will not progress everything, and your body will block when you try to surf.
But learning how to surf can be possible for  everyone!
During our surflessons we use a 3 step methode.
We focus on 3 simple things. This makes learning how to surf much fast and easy!
Daily from 10:30 till 16:00
Nothing is more annoying then surfing below your level. Thats why we offer surfcoaching for intermediate and advanced surfers. We go with you in the water to work one on one to improve your surfing skills.
Daily from 10:30 till 16:00
Are you an advanced and experienced surfer? This is the perfect way to explore to moroccan coastline and surf as much as possible! Whether you want to surf around Rabat or Taghazout, we have the experience and knowledge of all Moroccan coast to show you the best and secret surfspots of the area! You don't have to waste any time by searching good surfspots or surf bad waves. Our experienced local surf guider bring you excactly to the place where the surf is working the best at that time. We will help you to surf as much as possible and search the best waves for your abilities.
Daily from 08:00 till 19:00
Children surflessons in agadir
Notting is more fun than learning how to surf, playing with the waves, and find out balance on a board. During our proffessional childeren surflessons in Agadir the children will learn the basics of surfing in easy steps on their level. The surflessons are given on save and child-friendly beaches, and there is always a proffessional surfinstructor(s) with the children in the water. Beach and ocean fun can start!
This surflessons are suitable for children from 6 years till 16 years old.
Daily from 10:00 till 13:00

Pick a program that best fits your schedule and goals. All plans offer a full money back guarantee.
Transfer to the surfspots
2 times coaching / lessons
Add surfboard + wetsuit for 10€ per day
Surfboard & wetsuit rental
Transport to the surfspots
Information about the spots
Add surfboard + wetsuit for 10€ per day
*Depending on your location in Agadir we can calculate 5€ extra for transport.