This exciting half-day tour uses a traditional fishing boat to access some of the more pristine sections of the ocean to go snorkeling! Dive under the surface and find a whole new underwater life.
Overview
Trip Outline
Trip Includes
Gallery
FAQ
Price
Snorkeling in Taghazout, Morocco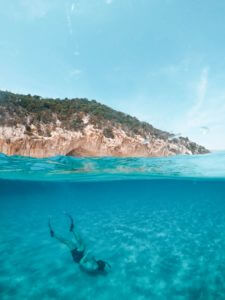 Snorkeling in Taghazout, Morocco is a fantastic experience! In the South of Morocco where the Sahara meets the ocean there is a whole new world to discover under water. Our new snorkeling club gives you the change to dive under the surface of the waves and the Atlantic ocean to discover collorful fish, reefs and corals.
This activities gives you acces to the more pristine sections of the ocean in the area of Taghazout to go snorkeling and swimming.
There are two options to go snorkeling in Morocco:
Beach hopping snorkeling tour
Visit 3 hidden beaches to discover the nature above and under the surface by snorkeling.
Boat over water snorkeling tour
Go with a traditional fishing boat on snorkel and swim tour in the area of Taghazout
What snorkel experience in Taghazout would you like the most?
Do you want to combine this trip with other fantastic activities? Join us on an adventure holiday 
Tell me more about the snorkeling by boat in Taghazout!

Option 1 Snorkeling trip on traditional fishing boat
This half daytrip start around 16:30. We will meet you in Taghazout and from here we step in a traditional fishing boat in the harbour. This beautiful traditional blue boat brings us to a beautiful snorkeling spot in the area. When we arrive you go into the water with the snorkels. The guides are constantly on the lookout for wildlife. You will get plenty of time to explore the area and find many interesting things under water such as under water reefs, corals and many fishes.
In the end of the trip we sailing back to Taghazout, where we arrive around 18:30.
Option 2: Beach hopping and snorkeling tour
The beach hopping and snorkeling tour is another great way to see more of the area of Taghazout. We go to 3 beaches that you would normally not see. We meet you at 16:30 in Taghazout to take the road with one of our cars. We visit beaches that are fantastic to go snorkeling. With the guide you will go into the ocean to find fantastic wildlife. In the end of the tour we bring you back to Taghazout. where we arrive around 19:00
Oceanlife to explore while snorkeling:
Morocco is known for having the richest fish territory in the Atlantic Ocean. In front of the coast of Taghazout there are so many beautiful fishes to discover! In wintertime dolphines are visiting this area very soon. Also find turtles and whales can be spotted. Under water you will find many small collorful fishes.
Water tempratures:
What a nice experience to go snorkeling in warm water! The water tempratures doesnt drop below 17°C in winter time. In summer time the tempratures are around 20°C.
Minimum participants: 4Â 
Who can join the Snorkel activities?
Almost anyone who is comfortable in the water can snorkel! Unlike scuba diving, snorkeling has not minimum age. Children, teenagers, adults and even seniors can participate in this relaxing activity. However, whenever snorkeling at a new or unfamiliar site, be sure that your swimming skills are sufficient for the environment.
Days and times:
Option 1: Boattrip snorkeling tour
2x per week from 16:30 - 18:30
Option 2: Beachhopping snorkeling tour
2x per week from 16:30 - 19:00
The snorkeling activity in Taghazout is included the following services:
Snorkeling gear
A guide that shows you the area and looking out for wildlife
Boat tour along the coastline to one of the snorkeling spots or
A car tour to 3 hidden beaches
 Snorkeling and swimming for a hour!
Bring as less stuff with you as possible because things can get wet. Bring a Gopro if you would like to take pictures!
No you need to have a good level of swimming
Day by day there are different fishes to find so we can't guarantee that you will see dolphines, turtles or whales
The snorkeling activity in Taghazout price:
Option 1: Snorkeling tour by boat: 35€ p.p.
Option 2: Beach hopping snorkeling tour: 25€ p.p.