Sandboarding is a fantastic adventurous activity while visiting Morocco! This 3hour daytrip can be organised from Agadir, Tamraght and Taghazout.
Overview
Trip Outline
Trip Includes
Trip Excludes
Gallery
FAQ
Booking
Have you ever tried sandboarding?
Sandboarding is a fantastic adventurous activity while visiting Morocco! This 3 hour daytrip can be organised from Agadir, Tamraght and Taghazout. It takes you to the exiting sand dunes of Tamri. A small Sahara next to the ocean. Enjoy the view and try out surfing on sand!
A visit of Morocco isn't complete without a visit to the sand dunes/ Sahara!
But if you don't have enough time to travel all the way to the Sahara it is a great option to visit the Small Sahara and still experience the desert feeling and making some stunning pics for back home.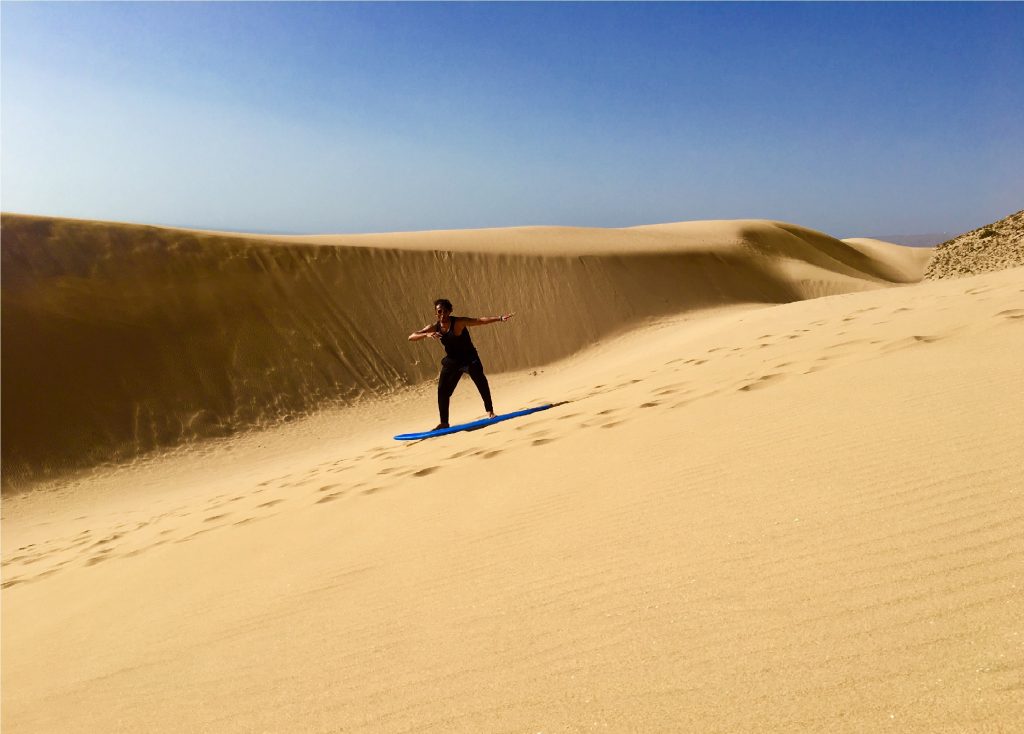 Reviews of the sandboarding in the Small Sahara trip
The guide

The activity itself

The organisation of Surf Paradise Morocco

Overall score
Fantastic experience in Morocco
Definitely do this while you are in Morocco! The guides helped us out very good, notting was to much and we had plenty of fun with them! The area is really beautiful and the sunset brings the Small Sahara alive with beautiful collors!
Sandboarding in the Small Sahara - Daytrip
Enjoy a half day sandboarding in the small Sahara, in the North of Agadir on this fantastic undiscovered little Sahara. (1 hour drive from Agadir). This location makes small Sahara trips possible from Agadir, if you don't want to drive multiple hours.
A typical sandboarding day:
After an beautiful ride along the Atlantic ocean coastline, we pass multiple villages such as Tamri, banana plantations and surf spots we arrive at the sanddunes. First we climb all the way up (a good work-out).  We surf on the sandy dunes. The sandboarding can be done on small dunes from 1 meter but also on bigger dunes from mutiple meters high! The guide will help you, making pictures and having fun while looking over the wild ocean and learn how to surf on sand!
Watching a magical sunset:
We make sure to plan our visit during sunsets for the most fasinating views, collors and a magical experience!
What is included during the half daytrip: "Sandboarding in the small Sahara"?
Start 16:00
Back at your accommdation around 20:00
Try out sandboarding!
Transport to the sanddunes of the Small Sahara (1 hour driving)
a local guide
Highlights:
Learn how to surf on the sanddunes
Facinating views over the wild ocean
Real Sahara pics!
What is not included yet?
Transport from hotel in Agadir (5€ extra surcharge)
Be sure that you wear someting sporty and comfortable. You will jump up and down the sandy dunes, so you will be totally covered with sand afterwards;) Also bring something warm, if the sun is down it can get cold.
We pick you up from your hotel in Tamraght, Taghazout, or Agadir. It is around 45minutes driving to the sand dunes.
We do sandboarding on surfboards. This is a easy and approachable way to try out sandboarding for everyone!
Start

End

Group Size

Price