Sandboarding small Sahara
Visit the Small Sahara in Morocco and try out sandboarding. It is a fantastic adventurous activity while visiting Morocco! This 3hour daytrip can be organised from Agadir, Tamraght and Taghazout.

Do you have a question or want a personalized quote? Contact us!
Overview
Trip Outline
Wat is included?
Gallery
FAQ
Prices
Sandboarding in Morocco
Have you ever tried sandboarding?
Sandboarding is a fantastic adventurous activity while visiting Morocco! This 3-hour day trip can be organized from Agadir, Tamraght, and Taghazout. It takes you to the exiting sand dunes of Tamri. A small Sahara next to the ocean. Enjoy the view and try out surfing on the sand!
A visit to Morocco isn't complete without a visit to the sand dunes/ Sahara!
But if you don't have enough time to travel all the way to the Sahara it is a great option to visit the Small Sahara and still experience the desert feeling and making some stunning pics for back home.
Highlights:

Try out to surf on the sand dunes
Fascinating views over the wild ocean
Real Sahara pics!
Watching the sunset over the ocean
Price:
25€ per person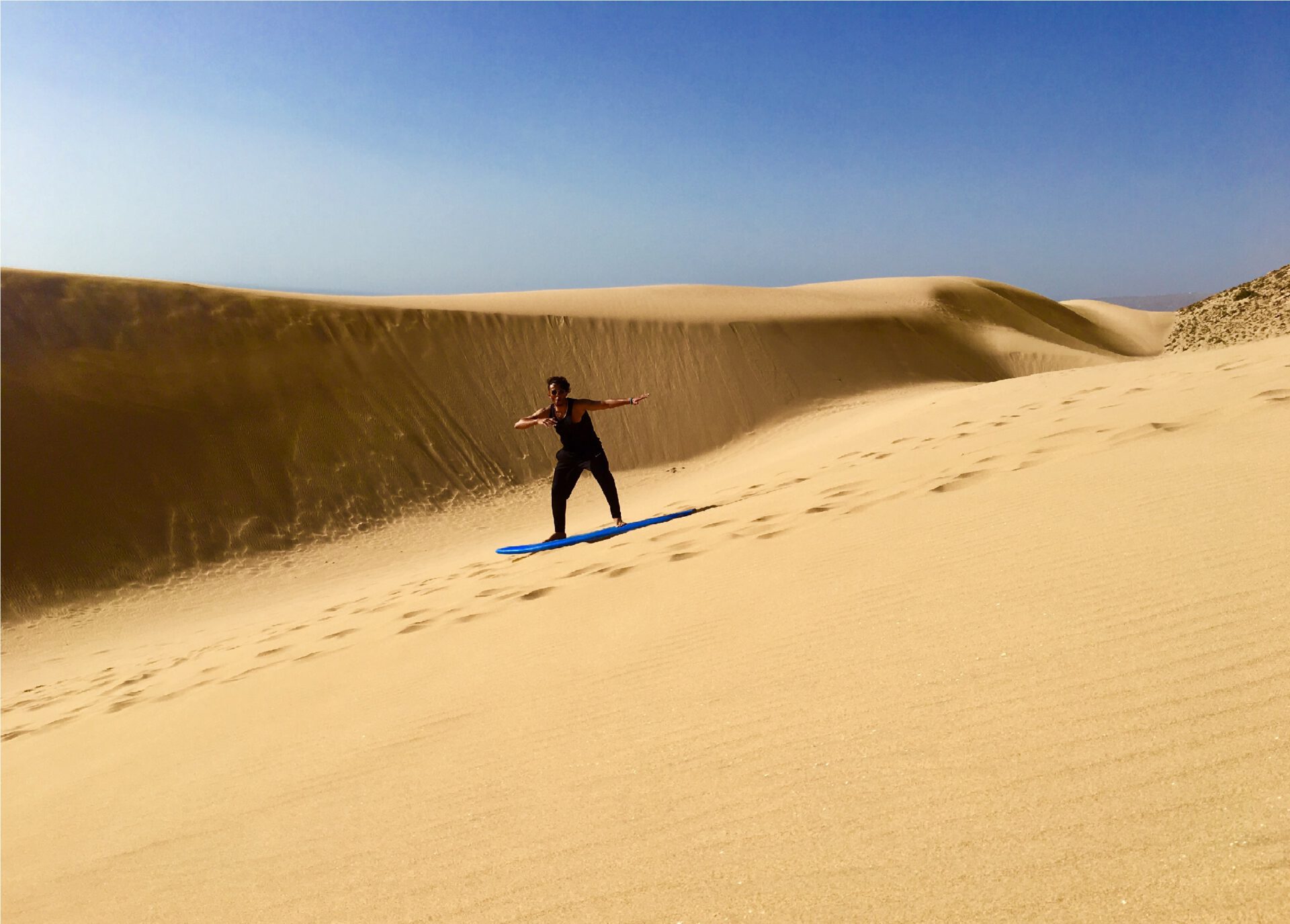 Daily available, time: 16:00
Back at your accommodation: Around 20:00
Extra: Transport from hotel in Agadir (5€ extra surcharge)
Minimal participants: 2 persons
Maximal participants: 20 persons
Activity perfect for people who are staying in Taghazout, Tamraght or Agadir area
Interested in a one week holiday with Paradise Valley in your package?
Follow our journey in Morocco on our
Instagram
Reviews of the sandboarding in the Small Sahara trip
The guide

The activity itself

The organisation of Surf Paradise Morocco

Overall score
Fantastic experience in Morocco
Definitely do this while you are in Morocco! The guides helped us out very good, notting was to much and we had plenty of fun with them! The area is really beautiful and the sunset brings the Small Sahara alive with beautiful collors!
Sandboarding in the Small Sahara - Daytrip​
Enjoy a half day sandboarding in the small Sahara, in the North of Agadir on this fantastic undiscovered little Sahara. (1 hour drive from Agadir). This location makes small Sahara trips possible from Agadir, if you don't want to drive multiple hours
After an beautiful ride along the Atlantic ocean coastline, we pass multiple villages such as Tamri, banana plantations and surf spots we arrive at the sanddunes. We surf on the sandy dunes, looking over the wild ocean and try out how to surf on sand!
We make sure to plan our visit during sunsets for the most fasinating views, collors and a magical experience!
What is included?​
Start 16:00
Coming back around 19:30
A sandboard
Transport to the sanddunes
a local guide
On your sandboarding trip you need to bring something to drink, also bring your camera to make awesome pictures! We also recommend you to bring some warmer clothes for if the sun is going down.
Wear sportive clothes that can get dirty! It is no problem to go sandboarding on barefeet. Also bring a warm sweater for when the sun is going down.
This place is one hour driving from Taghazout/Tamraght and 1,5 hour driving from Agadir. It is not shown on the map and there are no signs so very difficult to find by yourself. We are happy to bring you there!
Yes you can go with your own car to the Small Sahara! There is no discount if you go with your own car.
We normally offer this tour at 16:00 because we love to go after surfing while the sun is setting. If you prefer to go on an other time please contact Suzanne by e-mail to make an appointment.
It is almost every day perfect weather in this area. It can happen that there is too much wind. With wind it is not a nice place to be. In this case we contact you in advance to cancel the trip and we reschedule if possible
You can book this trip alone but we believe that it is more fun to go together! If you would like to go by yourself on this trip we try to plan it on a day with other travellers to share the joy! :)
Sandboarding in the small Sahara: 25€