Explore Morocco's most beautiful places with adventurous activities during the Adventure holiday. You will experience Morocco's colourful culture and nature in one week. This week is for everyone who love active holidays. Are you that daredevil?  
Overview
Trip Outline
Wat is included?
Gallery
FAQ
Prices
Adventure holiday an experience of a lifetime!
In this adventure holiday, you will explore beautiful Morocco with adventurous activities. From our lodge, based on the coastline close to Taghazout, we go daily on adventures in the area. Jump into the water, racing in the outback, visit the small Sahara, Climbing in the mountains of Paradise Valley, cliff jumping and so much more! You will experience Morocco's colorful culture and nature in this adventure holiday. With this package, you can use all the hotel services and we will take care of everything!
This week is for everyone who loves active holidays. Are you that daredevil?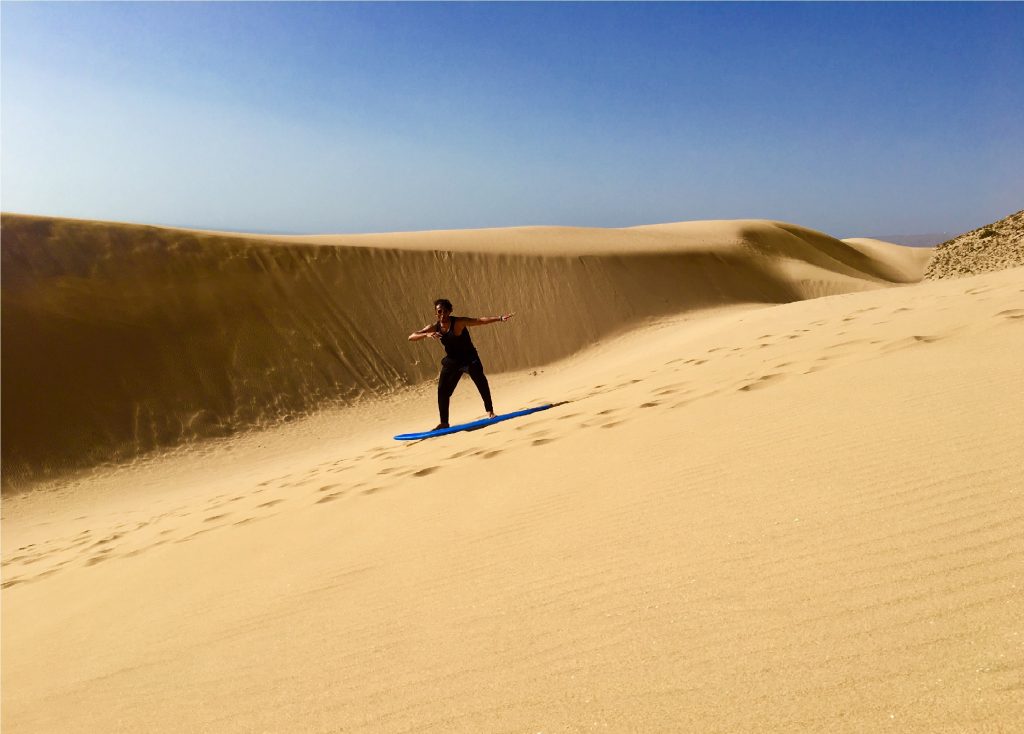 The highlights of the adventure holiday!
Doing unique activities such as surfing, sandboarding, and cliff-jumping
Every day an organized program
1-week oceanview accommodation on the coastline
Explore Morocco's most beautiful nature in an active way!
This holiday is perfect for:
Young adventure seekers who dare to go off the beaten track
You want to do more than just surfing!
Single travelers in the shared room or a group of friends in the private rooms
Children from 7 years old and their family!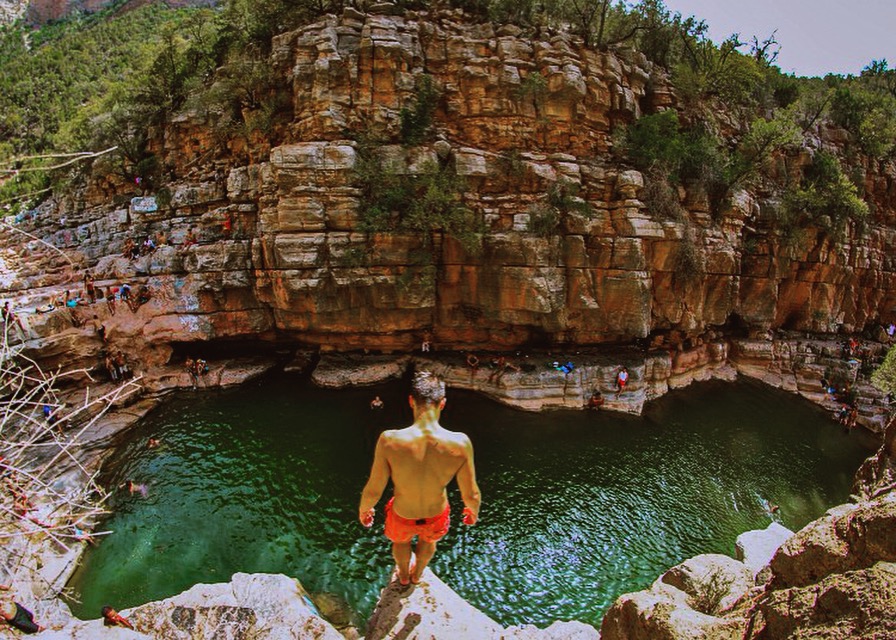 Follow our journey in Morocco on our instagram
Reviews of the Adventure week
The surfcamp

Cleanliness

The activities

The staff

Food

Overal score
Latest review on Tripadvisor: Awesome trip
I travelled to Suzanne's place on my own and it was perfect. I've been travelling in Morocco for a longer period and staying at this place was definately one of the highlights. I had a private room (bathroom was shared). Sometimes the bathroom was occupied, but over all I thought the sharing was fine. The room was nice and quiet. Breakfast was included and it was wonderfull! Also I joined a few activities like surfing, going to the souk and paradise valley. This was all very nice, especially when you're travelling alone. I had a great time at Suzanne's place and I would recommend it to everyone!
Tell me more!
Do you want to meet Morocco on the most exiting way possible? On this trip you will experience great activities, doing sandboarding, surfing, hiking, cliffjumping and much more! Every day we have an activity and schedule. This holiday is a one week holiday but can also be shortened or extended. This week is booked very often by friends or family, but also by single travelers!
A typical day
The program of the Adventure week is a great active and adventurous program that combines many activities. Our schedule changes daily as the surfing conditions change daily. To give you an idea here a typical surf day at our surfcamp:
08:00  – 09:00 sunrise yogasession*

09:30 – 10:00  Surfers breakfast with view over the ocean

10:30 – 16:00   Surflessons/surfguiding/surfcoaching

17:00 – 18:00 Sunset yogasession*

18:00 Teabreak on the terrace

20:00 – 21:00  Moroccan dinner *

21:00 Campfire night
In your package there are 2 surfdays included. At your check-in you choose your level. Also the surfequipment rental is included in this package. Besides the surf there are a lot of extra activities organised in the surfcamp witch you can join: Once a week we make a expedition to Paradise Valley. On saturday we have a Moroccan night. Sunday is the day that we visit the souks of Agadir, and on Monday we make a trip to the small Sahara.
[gallery columns="6" ids="6611,7393,7318,6392,6232"]
More activities
Go on Quad tour trough the outback of Morocco: This half day trip we do in on of the mornings. Ride on our quad over the beach and trough the mountains to discover the area in a fast way!
Hike in the mountains. During one of the afternoons (if you still have some energy) we hike towards the top of the mountain in Tamraght. From here we have a spectaculair view over the bay and the village. We watch sunset from this point and making some awesome pics!
The collorful souks in Agadir is the perfect place to taste the Moroccan culture on it's best. Shop till you drop or just watch to all interesting things that are happening in the souks.
Itineraries
ARRIVAL
Transport from Agadir Airport
Send your flightnumber and exact arrival time to Surf Paradise Morocco and there will be a taxi driver welcoming you from the airport to bring you savely and easy to the surfcamp. He will help you out with all your luggage!
FIRST DAY & EVENING
Take your time and breathe!
You finally arrived at the surfcamp! Your holiday did just start. Take your time to settle down and relax in the tropical garden or on the sunny terrace. You can join activities or order delicious foods in the restaurant
BREAKFASTS
Breakfasts
Every morning you can order your own delicious breakfast. Choose between traditional Moroccan starters or a more fruity start of the day! The breakfast is served on the terrace with a stunning view over the bay!
SURFLESSONS
Surflessons
In your package you have 2 surfdays. We start around 10:30 AM. Choose your wetsuit and surfboard and then we drive to one of the best surfspots of the day! The surfinstructor decide what surf program you will get depending on your level. On the beach you will get a delicious lunch served during the break! We will have fun in and out the water on the beach till around 16:00 and then we're heading back to the surfcamp
OFF-TIME
Time to relaxxxx
After the surf it is time to relax and lay down a bit. After the intense day you have some free time to do something by yourself!
Expedition Paradise Valley
Hiking, cliff jumping and swimming
On this daytrip we visit the beautiful Paradise Valley. We depart in the early morning and coming back in the afternoon. We will go hiking, cliffjumping and swimming in the natural pools. On this daytrip a delicious meal is included.
Sandboarding
Sandboarding in the small Sahara
Did you ever try Sandboarding? On this half day trip you will go sandboarding in the Small Sahara! A must do on your trip to Morocco!
Souks of Agadir
Souks of Agadir
Explore the culture of Morocco and visit the local Souks (markets) Here you can taste, hear, see and smell the real collorful Morocco. On this half day trip you can also buy your souvenirs :)
Quad tour
Quad tour
During this tour on the quad you will race trough the outback of Morocco. A fantastic experience!
Departure
Departure
We hope that you had a fantastic time at Surf Paradise Morocco and the goodbye will be hard. On your departure day you can reservate a taxi to the airport. The taxi driver will help you on the way back!
What is included in your Adventure week?
The following services are included. You can always add extra's to your package such as yogalessons. Feel free to ask Suzanne if you would like to costumize your own package or if you have any special requests!
Accommodation

Surfing
Paradise Valley
Sandboarding in the Small Sahara
Other extra's
Accommodation

1 week in the surfhouse (private or shared room)
WiFi
24/7 Staff Assistance
Clean towels and bedsheets
Use all surfcamp services for free!
Meals
Daily delicious breakfast
Lunches during the surfdays and daytrips
Surfing
2 Surfdays (10 hours of surflesson, surfcoaching or surfguiding)
Surf equipment
Daily delicious (beach) lunch
Lessons & coaching from ISA certificated surfinstructors
Transport to the best surfspot of the day
Surfing on the best surfspots of the day, every day another surfspot!
Paradise Valley
Paradise Valley expedition
Transport to Paradise Valley
A guide who is showing you the best places of the valley
Visit of a traditional argan olie cooperation
Delicious lunch on the expedition
Sandboarding
Half daytrip to the Small Sahara
Sandboarding
Transport tot he small Sahara
Local guide

More activities
Hike in the mountains
Souks of Agadir
Airport transfer arrival + departure
Good to know!

Check in / Check out on your preferred date
You can check in on every day in the week, and we are open all year round. Also you can check in and check out 24/7!
Family friendly!
We love surfing families and this package is family friendly. For families we offer special rooms and activities suitable for children.
Towels and linen
At arrival you will receive towels and clean linen.
We can write you down on the list, so we will inform you as soon as there will be a spot available again!
– Swimsuit,
– Beach towel,
– Sunscreen (30+),
– Sunglasses,
– Flip flops,
– Beach bag
– Camera/ Gopro
– Something warm to wear at night and after surf
- hiking shoes
- A cap to protect yourself from the sun
- Clothes for sporting and hikeing
Yes! We have a lot of travellers and surfers visiting us alone. Most of the time they stay in our shared room where it is easy to meet other travellers.
The adventure holiday is suitable for kids from 7 years old because the activities are really accessible to children. Families are welcome in the surf camp!
In Morocco they pay with Dirhams. 1 euro is around 10 dirhams. In most of the countries its difficult to get Moroccan Dirhams. We recommend changing money once here or using your ATM card. You will find exchange facilities and ATMs in the airport to get money out. You can also find ATMs in Agadir or Awrir. Surf Paradise Morocco don't accept travellers cheques!
We start to explain a funny fact: Tamraght is a dry town. This means that no store will sell alcohol here... But(!!) that does not mean that you can't get alcohol. Alcohol is available in Agadir, in restaurants, cafe's and you can buy it in the shop. It is allowed to drink alcohol in the surfcamp and it is nice to enjoy a drink after a good day surfing. You can also buy duty free before departing in the airport.
We get a lot of questions from girls wanting advice and looking for information on how to have a safe, trouble-free trip in Morocco, and what they have to know. Morocco is one of the most tolerant Muslim countries. You're not the first woman to visit Morocco. Agadir and the Area of Tamraght is a European tourist destination and the locals will not be shocked by much. however we would ask that all our clients respect local customs. Our advice to our women guests: Dress modest, be aware (don't go alone on the streets at night, don't carry large sums of cash. ) and ignore if you get comments.
The prices for this package:
Price per day:
63€ per night
(upgrade to private double room: + 18€ per night per room)
(upgrade to private single room: + 15€ per night per night per room)
Price per week:
439€ per week
(upgrade to private double room: + 100€  per room)
(upgrade to private single room: + 90€ per room)
Last minute open spots:
Per week: 299€
Early bird ( 3 months in advance)
429€ per week