Imsouane, you have to surf here onces in your life!
Imsouane has one of the longest waves of Morocco and of Africa. The locals tell us they have rides for almost 2 minutes!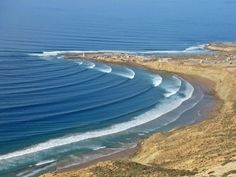 This small village is blessed with 2 perfect surfspots: la bay and la Cathedrale. only 5 minutes away from eachother!
La bay
La bay is the most populair surfspot of the area. La bay has point waves and also has beachbreak waves. The waves are breaking behind the harbour. If there is a lot of swell the point waves are working perfectly and you can surf looooongg waves (up to 600metres!). If the beachbreak waves are working this beach is perect for beginners, for longboarders and for people who just love to surf with a breathtaking view.
---
La Cathedrale
La Cathedrale has beachbreak waves. This spot is working all the time in the year and with all kinds of swells. This beach has several right and left peaks. On the left side the reef is ending in the beach what make a perfect reef break. This beach is suitable for beginners and advanced surfers!
---
Traditional life
This small village is relax and you will find the traditional Moroccan life! Meet some locals and enjoy the clean and quiet streets. Imsouane is also an beautiful fishersvillage with traditional buildings and a harbour,  see the fishermans working and eat the most fresh fish you will ever find!
This village is 1,5hours driving away. The trip is absolutly worth it! You'll drive next to the coastline and trough the big mountains. Imsouane is a isolated village surrounded by the big mountains, what gives a spectacular view!
You can make a daytrip to Imsouane with Surf Paradise Morocco! Check out our movie from our daytrip to Imsouane!
---
---