Surf and stay in Morocco – The perfect surfholiday in the south of Morocco for all surfers
Overview
Trip Outline
Trip Includes
Trip Excludes
Gallery
FAQ
Booking
Surf and stay in Morocco!
Looking for a basic Surf and Stay option in Morocco? Then you are now looking at the right holiday package!
With this package you can join the daily surflessons for beginner surfers or surfcoaching for intermediate surfers. After surfing you can decide by yourself what you would like to do!
This holiday is perfect if you would like to learn how to surf fast, join daily surflessons and learn to surf in a quick and professional way. Or if you would like to improve your surf as intermediate surfer. Get personal coaching from the water!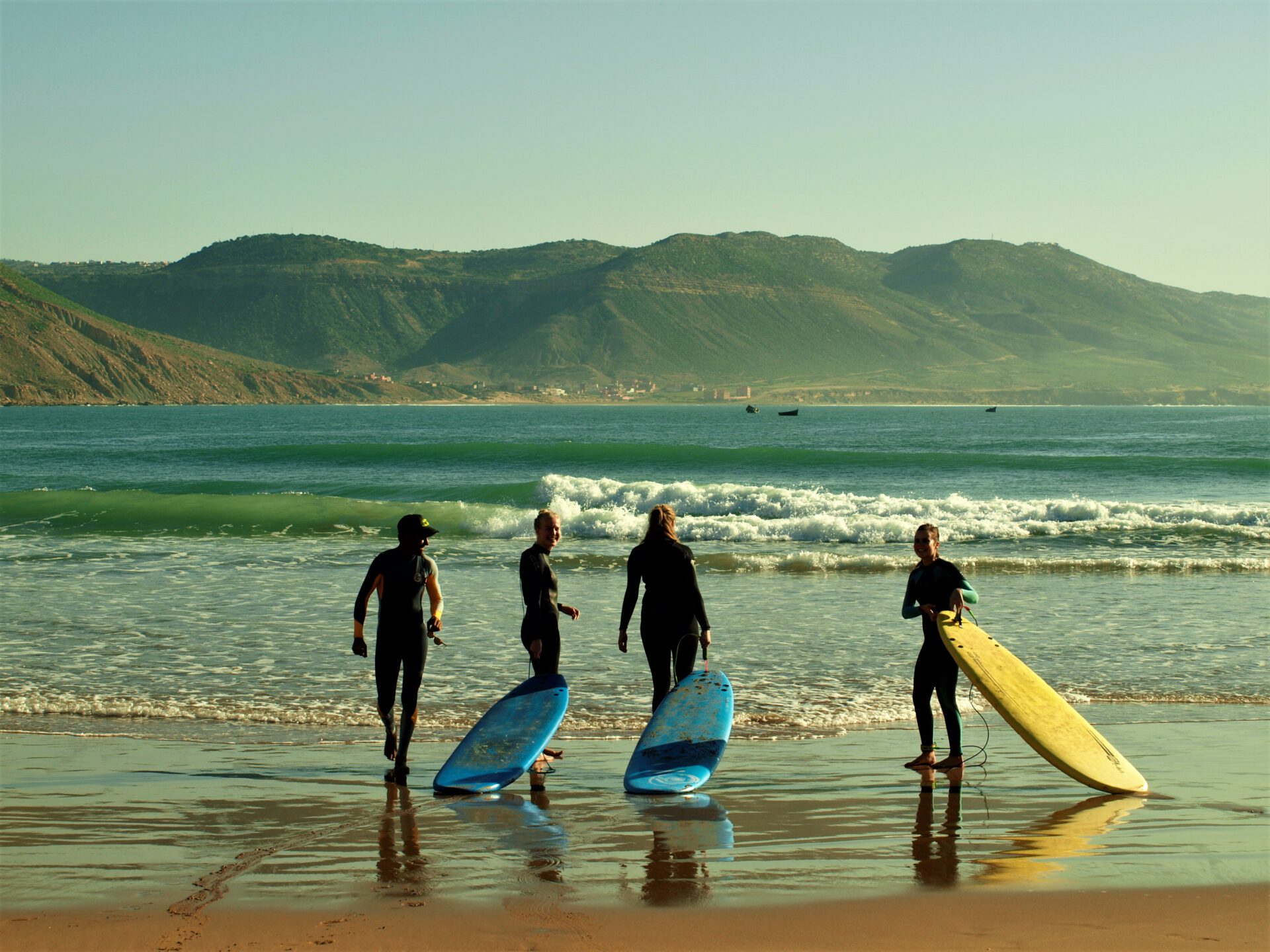 The Highlights:
More than 30 hours of surftraining!
Get surf training from certificated surfinstructors
Every day another surfspot as destination: We go there where the waves are rocking!
1 week accommodation with breakfast included
Perfect for:
Are you looking for a surfholiday with a great quality of surfing?
Do you like to organise the dinners by yourself?
Are you travelling alone or with some friends?
Do you prefer to stay in a small & cozy surfcamp as one big family?
The waves:
Morocco is a fantastic surfdestination, whether you visit Morocco in summer or in wintertime, the surf is always up! But what season is the best for your abilities and dreams? Choose your perfect season here
Check the current swell in Anchor Point on Magicseaweed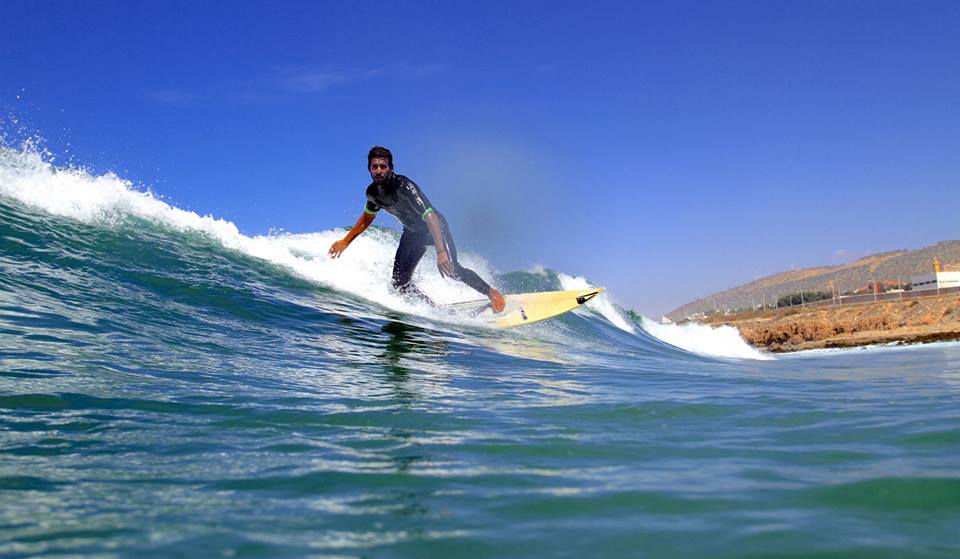 Follow our journey in Morocco on our instagram
Dive into the Moroccan waves! 
Explore the best waves, breathtaking beaches, waking up with sunrise surfsessions or ending the day with a sunset surfsession. Our surfdays are given by Moroccan Surfcampion Zouhir Houmay and his team full of passionate surf instructors (all surfinstructors are ISA certificated)
A typical day
On a typical surfday we leave at 10:00 the house to drive to a surfspot in the area. We are not always going for the surfspots that are closeby the surfcamp. Depending on the swell, the tides, the winds and the level of the surfers we choose a surfspot in the area that suits this points the most. All the surfspots we surf on or within 30 minutes driving.
On arrival you can choose between beginner surflessons for beginner surfers, surfcoaching for intermediate or surfguidings for advanced surfers.
Beginnerclasses
You have never surfed before or only a few times? No problem! In our beginners lessons you'll learn the basics of surfing in 3-easy steps. (our 3-step method) With the good basics you can progress fast and you will stand up on your board in no time, riding your first wave!
In the beginning of the day we'll start on the beach to practice on dry land. Then we go into the water, the surfteacher will help you to stand on your board and take waves.
For the intermediate surfer.
You have experience with surfing. Maybe you didn't surf for a while and you want to make a new start. You will join the the professional coaching in the water from a pro-surfer. Together with him you will work on your skills to improve your surf, take bigger waves, make paddeling more easy, learning how to duckdive and have more boardcontrol. Maybe you also want to learn some trics!
The accommodation includes:
WiFi in the whole surfcamp
Clean towels & linen are provided
24/7 host available that helps you out with everything
Daily delicious breakfast on the rooftop
Unlimited using of all surfcamp services
Choose between a shared room or private room!
Itineraries
Day 1
Your arrival
Plan your own arrival to the surfcamp, From 15:00 you can check in!
FIRST DAY & EVENING
Untitled
You finally arrived at the surfcamp! Your holiday did just start. Take your time to settle down and relax in the tropical garden or on the sunny terrace. You can join activities or order delicious foods in the restaurant.
Breakfasts
Breakfasts
Every morning you can order your own delicious breakfast. Choose between traditional Moroccan starters or a more fruity start of the day! The breakfast is served on the terrace with a stunning view over the bay!
Surflessons
Surflessons
In your package you have 6 surfdays. We start around 10:30 AM. Choose your wetsuit and surfboard and then we drive to one of the best surfspots of the day! The surfinstructor decide what surf program you will get depending on your level. On the beach you will get a delicious lunch served during the break! We will have fun in and out the water on the beach till around 16:00 and then we're heading back to the surfcamp
Departure
Your Plan
We hope that you had a fantastic time at Surf Paradise Morocco and the goodbye will be hard. Are you traveling longer trough Morocco? The host is happy to help you out with organising your transport!
Accommodation
1 Week in the surfhouse in a private or shared room
WiFi
Daily healthy breakfast
24/7 Staff Assistance
Clean towels and bedsheets
Use all surfcamp services for free!
Surflessons
6 complete surfdays ( with more than 30 hours: surflesson, surfcoaching or surfguiding)
6 days high quality surf equipment
Daily delicious (beach) lunch
Lessons & coaching from ISA certificated surfinstructors
Transport to the best surfspot of the day
Groups not bigger than 6 persons per instructor
Surfing on the best surfspots of the day, every day another surfspot!
Flight to Agadir
Transport to the surfcamp
dinners
Surf assurance (additional)
Extra activities
Start

End

Group (Min-Max)

Pricing