Expedition Paradise Valley
This adventurous daytrip to Paradise Valley in Morocco takes you to the beautiful palmtree oases and waterfalls between the ends of the high Atlas Mountains in Morocco.
Overview
Trip Outline
Wat is included?
Gallery
FAQ
Prices
Expedition Paradise Valley
The beautiful palmtree oases and waterfalls between the ends of the high Atlas Mountains in Morocco. Phase yourself in this secret hippy spot where once Jimi Hendriks was the discoverer of this paradise.
This daytrip can be organised from Agadir, Taghazout or tamraght in Morocco.
[gallery columns="5" ids="7306,7276,6702,6701"]
Expedition Paradise Valley - Daytrip
Are you looking for the best daytrip from Agadir, Tamraght or Taghazout? A day filled with hikes, refreshing dives in the cold mountain waters, and plenty of adventures? Then this full day expedition to Paradise Morocco is your perfect day out!
How does the day look like?
We start the day at a women empowerment orginisation where local women cultivate argan oil in a traditional way. We also visit their organic garden from where they make products that are good health, skin and hair. It's a very nice environment with lovely and very welcoming people.
We continue our trip driving trough the beautiful landscapes on the way to Paradise valley. We drive through small typical Moroccan villages.
When we arrive at Paradise valley we start a hike of plus minus 20 minutes to the first Valley. On the way of this hike we come by many beautiful views in to the valley, surrounded by palm trees and other beautifull trees and plants. We will pass a lot of nice small spots where you can have some food and drinks. Once arrived in the valley it's a beautifull place with cliffs and green blue water. We take a break to swim, jump and sunbathing.
The cliffjumping
This can be done all year long as long as the water level is high enough (Your guide can explain you this) It is for the real daredevils! The river offers several spots from where you can jump into the water from 3 meters high to 15 meters high!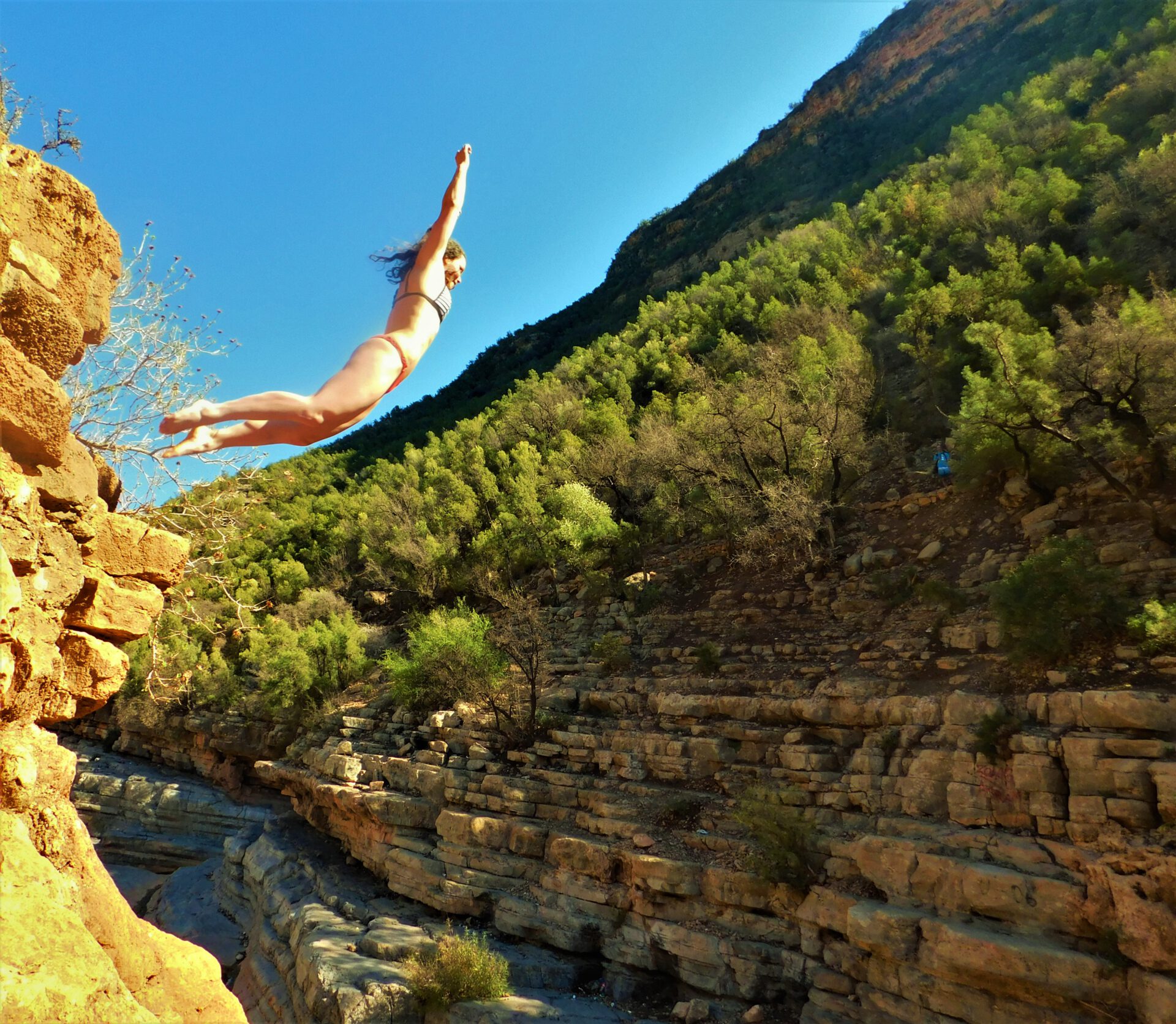 As lunch you will get a delicious Tahjine. We think it's the best Tajine you can get in the area. After we filled our stomachs we will slowely start our way home. When we come back to the camp we have some nice memories to look back to and we will send you all the pictures we made during the day.
The guide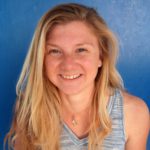 Great to welcome you in sunny Morocco and fantastic to meet you! I'm Suzanne: born and raised in Holland but now living in the collorful Morocco for already 10 years. Together my husband we did set up our surfcamp with our team. We love to welcome you and show you not only the touristic side of Morocco but also the raw and pure Morocco that is very beautiful aswell! We have experienced that it is all about the beautiful people that you meet along the road, the fantastic memories you make and the endless fun that you had that makes a holiday unforgettable. That is why we as team not only offering you the best service possible but also connect with you and share our deep passion of the area with you!
Start whole daytrip from 10:00-16:00
Transport to Paradise Valley
A local guide
Visit to a traditional organic garden & traditional argan oil
Hike trough the valley
Time for swimming and cliffjumping
A Moroccan lunch: Delicious Tajines!
Bottle of water
Highlights:
Facinating views over the mountains
Relaxing atmosphere, good food, great company
Cliffjumping for the daredevils & swimming under the waterfalls
We inform you in advance for the departure time. This is usually between 09:00 and 10:30.
Yes you can join this activity while staying somewhere else! We are also happy to pick you up for this activity when you are staying in Taghazout or Agadir.
Wear some shoes on witch you can walk properly in the mountains., Also it is handy to wear a cap against the sup because it can get very hot. Bring a camera and your stuff for swimming such as beach towel and swimming clothes.
The price for the expedition to Paradise Valley
Expedition Paradise Valley: 30€ p.p.