3 months surfinstructor course
With the surf instructor course you go from Zero to hero in 3 months. live the surferslife in Morocco and get your level 1 ISA certificate.
Overview
Trip Outline
Trip Includes
Trip Excludes
Gallery
Booking
FAQ
3 months surf instructor course
Becoming a great surfinstructor on the surfinstructor course! You're looking for a 12-week epic surf adventure in Morocco? You want sandy beaches to be your lifetime office like ours? Look no further! We provide you that dream at Surf Paradise!! …Live the dream and become a surf instructor in our 3 months instructor course!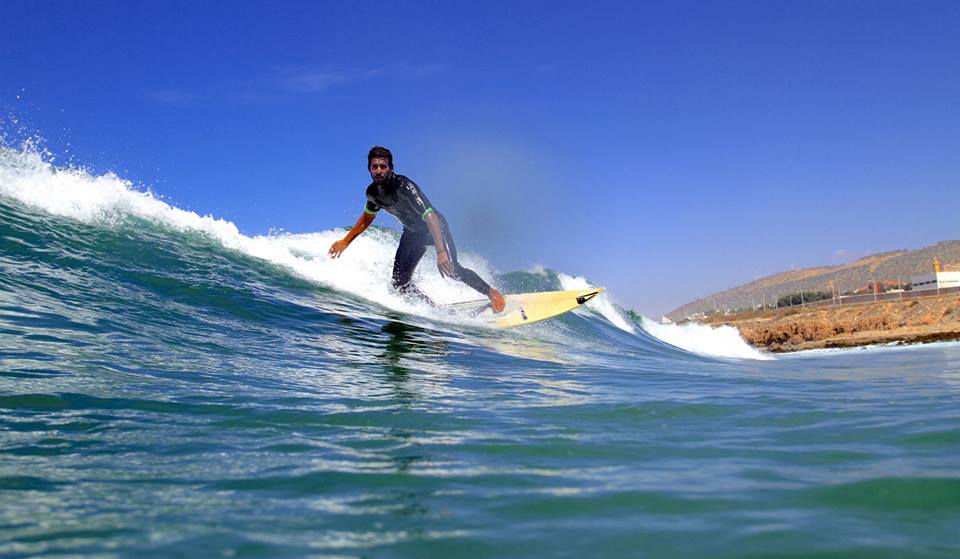 Living the surfersdream in Paradise
You live with the other students in the Surf Paradise Morocco surf house located right next to worldçlass surfbreaks, the surfhouse is fully dedicated to surfing. You will dive deep in the Moroccan surfers-life by surfing every day and meet other like minded surfers from all over the world.
On down-time we organise fantastic daytrips, Arabic lessons, rooftop party's and multiple days-surftrips to learn more about the Moroccan culture and celebrate your holiday!
[instagram-feed]
The Surf Paradise Morocco surfinstructor course offers a 12 week program that is officially endorsed by the ISA and Moroccan Surf Federation. In 12 weeks we will prepare you to get your ISA surf instructor certificate Level 1. By surfing every day from sunrise till sunset, learning surf theory and following extra workshops you will learn all essensial aspects that you need to know to become a full-fledged surf instructor.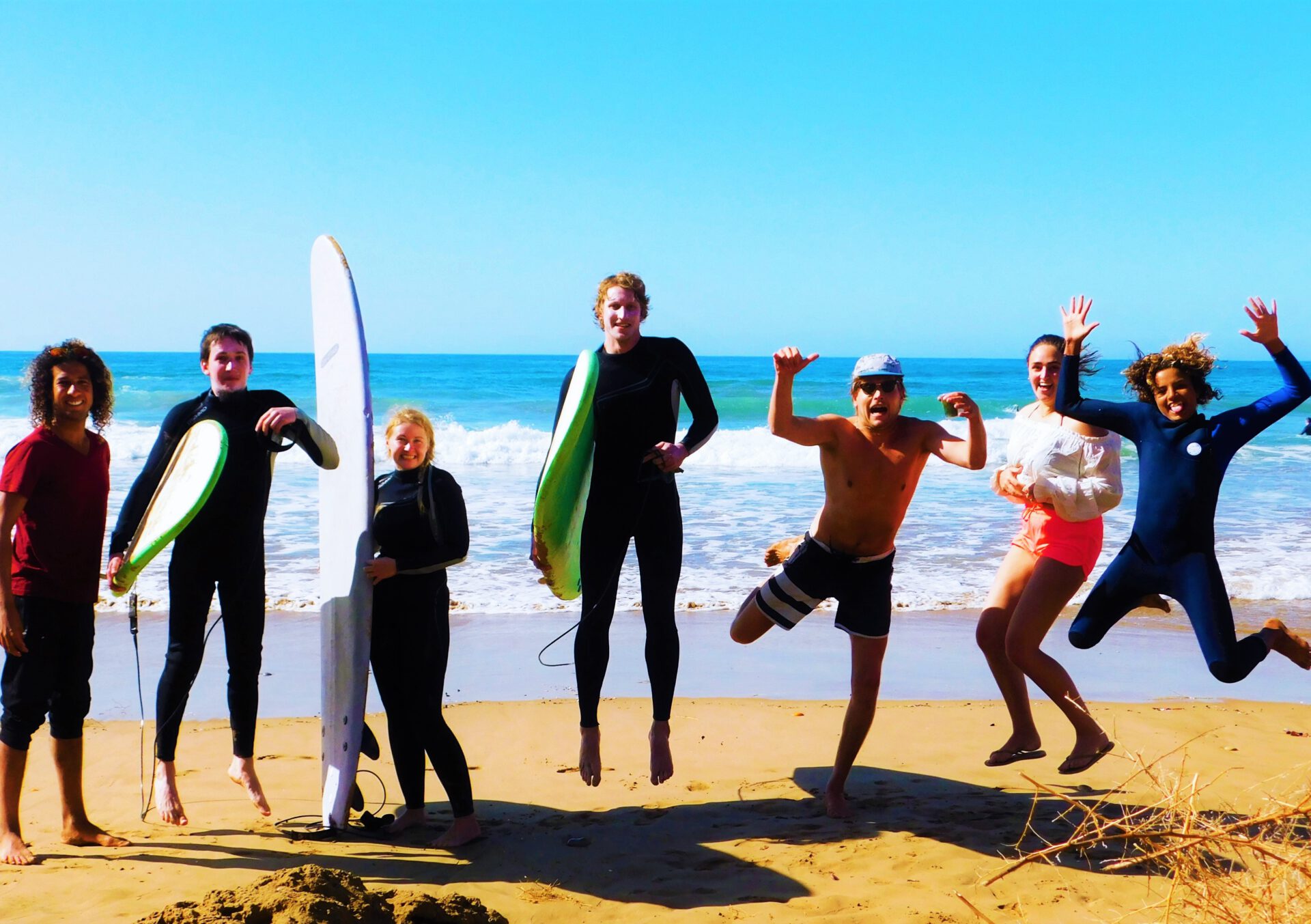 Surfing from Sunrise till sunset, day after day!
The waves in Morocco are regarded as some of the best in the world. Here you'll find long beaches that are perfect for beginners, alongside incredible point breaks that will leave even the most seasoned surfers breathless. After a healthy delicious surfersbreakfast we check the waves from the rooftop and decide where we will surf today. Around 9:30 we head up to one of the surfspots to find the best waves possible
Practical development of beginner to intermediate and expert surf skills
Ocean safety, ocean awareness, fitness training
Access to a variety of waves
Expert instruction by qualified coaches to achieve catching, riding, and turning on unbroken waves
Increased surf theory, and exposure to more challenging waves
Increased ocean fitness, paddling power and confidence
Provide up to 200 hours surflessons
Provide up to 40 hours of practical coaching experience
Use of video analysis to improve surfing techniques
[gallery columns="7" ids="6891,2695,6216,2709,2114,1731"]
 
For Who is this 3 months surf instructor course?
-> All levels are welcome (from very first beginner to advanced surfers)
-> Minimum 18 years old
-> Perfect for people who love the ocean, sports, sun, beach and adventures!
-> Great idea for gabyears or a break in your life!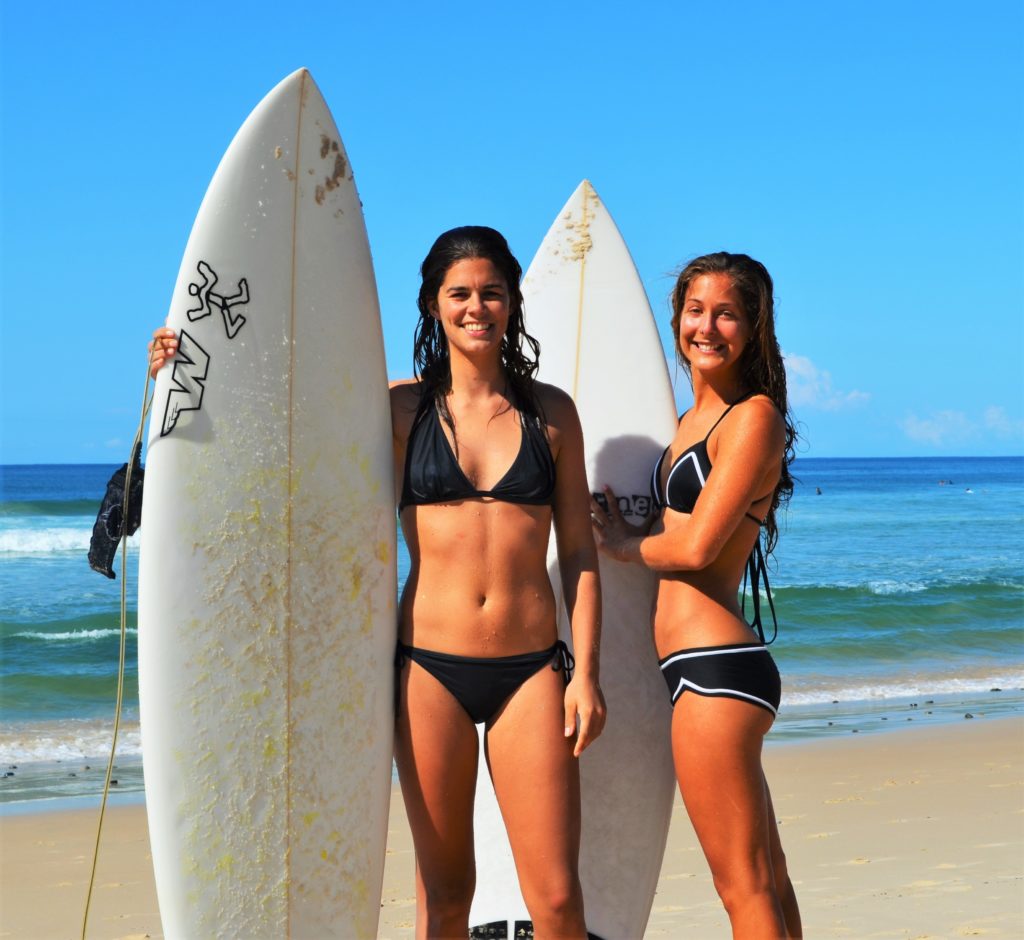 The area of Taghazout and Tamraght are surrounded by many worldclass surfbreaks. A surfmap filled with surfspots from beginner to advanced level within 30 minutes driving. This is the reason that this area is perfect for improving your surf quickly.
Every morning we check the weather and wave forecast to see where the best waves are rolling in. We ride along the beaches and decide where to surf.
During your surfinstructor course your surf will improve from beginner to intermediate/advanced. We choose that surfspot that fits your level. In the first weeks we start on easy beachbreak waves to catch as much waves as possible. Like this you will learn how to stand-up and ride waves. Later on we will challenge you to surf open green waves. When you manage to take green waves we will bring you to different surfspots to learn how to deal with different kind of breaks and waves.
[gallery columns="4" size="medium" ids="7303,6855,4672"]
We end the 12 weeks course with the assesment week. During this exciting week you will show what you have learned. The jury of the ISA vederation will see if you use the right techniques for your ISA LEVEL 1 surf instructor certificate.
For your certificate you must do a surf session in the water while the jury is observing you. They will judge you on your performance at that time. It is therefore important that you are in top condition and performing perfectly at that moment. If everything goes well, you will receive your surf instructor certificate!
Our surfing schedule changes daily as the surfing conditions change daily. To give you an idea here a typical surf day.
09:30 – 10:00 Breakfast

10:00 – 12:00 Surfcourse on the beach

12:00 – 13:00 Beachlunch

13:00 – 16:00 Surfcourse on the beach/theory lessons

17:00 – 18:00 sunset yogasession

18:00 Teabreak on the terrace

20:00 – 21:00 Dinner

21:00 Extra activities
Of course you are here for surfing, but that is definitely not all that we or Morocco has to offer! During your stay here you can expect to visit Paradise Valley, a fantastic oase full of green, palmtrees and places for cliffjumping, sandboarding in the Small Sahara, visiting the collorful souks of Agadir, a trip to the busy city Marrakesh, climbing one of the highest mountains of Aftica: Toubkal, Joining yogasessions, meeting lots of cool and interesting people, even cooler locals and the food is to die for! And this will be your home! To be able to really connect and interact with the local people, we also provide weekly Arabic/Darija language lessons.  As mentioned before we also offer several surftrips around Morocco.
1 time a week sunset yoga
1 time per week Arabic lessons
1 time per week surf work-outs
Expedition Paradise Valley
Sandboarding in the Small Sahara
Trip to Marrakesh
Daytrip to the souks of Agadir
Hikes on the beach and in the mountains
Hike to the highest mountain of Morocco: Toubkal
Surftrip to Sidi Ifni & Mirleft
Surftrip to Immesouane
Surftrip to Tifnit
[gallery columns="9" ids="7276,2879,2756,3030,7401,7302,2373,2364,2474"]
The accommodation includes:
WiFi in the whole surfcamp
Clean towels & linen are provided
24/7 happy hosts available that helps you out with everything
Daily delicious breakfast on the rooftop
Unlimited using of all surfcamp services
Choose between a shared room or private room
Lot's of nice evening activities to join!
The host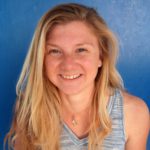 Great to welcome you in sunny Morocco and great to meet you! I'm Suzanne: born and raised in Holland but now living in the collorful Morocco for already 10 years. I did set up our small and cozy surfcamp in Morocco together with my husband: Zouhir, who is also national surf champion and pro-surfer. Together with our team we love to welcome you and show you not only the touristic side of Morocco but also the raw and pure Morocco that is very beautiful aswell! We have experienced that it is all about the beautiful people that you meet along the road, the fantastic memories you make and the endless fun that you had that makes a holiday unforgettable. That is why we as team not only offering you the best service possible but also connect with you and share our deep passion of surfing and yoga with you!
The surfinstructor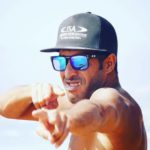 Zouhir is Moroccan surfchampion 2007 & 2008, coach of young upcoming pro-surfers and founder of Surf Paradise Morocco. He loves to share his deep passion for surfing with travellers from all over the world. Since he was just a little kid he was already surfing the big waves of this area so he knows exactly where the waves works the best. He is really motivated to get you to that next level. Also Zouhir loves to make videos and analyzing your surf during the evenings to progress your surf even better.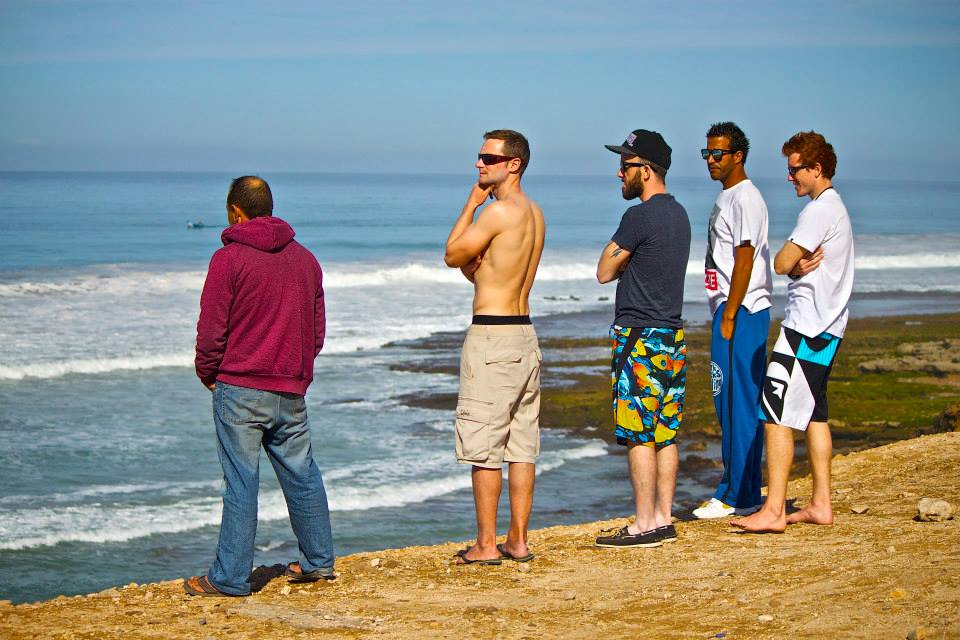 11 weeks surflessons 5x per week by certificated surfinstructors
– Practical lessons in the water
– Theory lessons
– coaching experience
– surfboard and wetsuit rental
12 weeks accommodation in shared room.
– WiFi
– Shared bathroom with hot water
– Unlimited free of use Surf Paradise Morocco surfcamp services
– daily breakfast
– 5x lunch per week
– 5x dinner per week
– Transport from and to Agadir Airport for start and end of the course
– 5 days per week transport to the surfspots
-Lifeguard workshop
-First Aid
-Theory lessons
– 12x Yogalessons
– 12x exlusive surf work-outs
– Daytrip Paradise Valley
– Daytip Sandboarding in small Sahara
– Daytrips Souks Agadir
– Marrakesh (1day)
– Climbing Toubkal (2days)
– Surftrip Imesouane (1day)
– Surftrip Tifnit + Dwira (2days)
– Surftrip Sidi Ifni + Mirleft (3days)
Weekly Photos & Video Analysing
– Assessment week
– Level 1 Surf Qualification assessment and SLS lifeguarding assessment
Surfinstructor Course Start June 1st 2020 - 5495€ p.p.
Surf instructor course Start Oct 5th 2020 - 5495€ p.p.
Pricing Name

Start

End

Group (Min-Max)

Pricing