Surf in Morocco Your ideal surfholiday!
Your home country is not blessed with an endless swell and perfect waves? Need some vitamine SEA? Then Morocco is waiting for you! Surf in Morocco is a dream for all surfers out there. Endless waves are rolling in, ready to be surfed! The surfschool of Surf Paradise Morocco is offering you both one week opportunities as multiple week surf trainings weeks, for beginner, intermediate and advanced surfers!
World class waves
All year round fantastic swell!
fast and easy to learn to surf
Start with surfing and improve your surf on fantastic beginner surfspots
Great surf community
Everything is about surfing here, from all over the world surfers come together in this small surferstown!

How is the surf in Morocco?
The history of Surf in Morocco is going back to the 60′. The waves in the area of Taghazout and Morocco were rocking, and hippies that visited this area, found the waves. Since then the surfcommunity is growing and growing. Nowdays Taghazout and Tamraght are worldwide well known surfvillages. Especially wintertime is famous for the big swells that are rolling in. The countless of different surfspots are perfect. You can always find a spot for your level, without being in a overcrowed line-up.
Our surfschool is located in Tamraght. In front of our surfschool you find surfspots: bananapoint and devils rock. This beaches are on walking distance. Regularly surfcompetitions are organised on this spots because of the constant swell. 
Surfspots for beginner surfers in Morocco
Small broken waves on beachbreak surfspots, without to much current. We surf on surfspots like: Crocro, Key69, Dessert point, Bananabeach
Surfspots for intermediate surfers in Morocco
You will start to learn how to take open waves but we want to train on beachbreak surfspots for your savety. We surf on surfspots like: Anza,Immesouane and Misteries
Surfspots for advanced surfers in Morocco
There are endless possibilities for you during wintertime! Left or right reefbreaks and sometimes swell of more tan 4 meters! You probably have heard about the famous surfspots: Anchor point!
Spots we surf during our surfdays
Morocco is blessed with so many beautiful beaches and endless surfspots. You can surf in Morocco on every kind of wave possible! Our surfschool is really taking time to choose the surfspot for the day. Depending on your surf abilities, the swell and the tides we choose our destination for the day. This because we want to have the perfect conditions to create an absolute briljant surfing climate for your surfing progress. 
So the days with Surf Paradise Morocco are always different! Sometimes we drive for 1hour to find fantastic waves, and sometimes we surf right in front of our surfschool.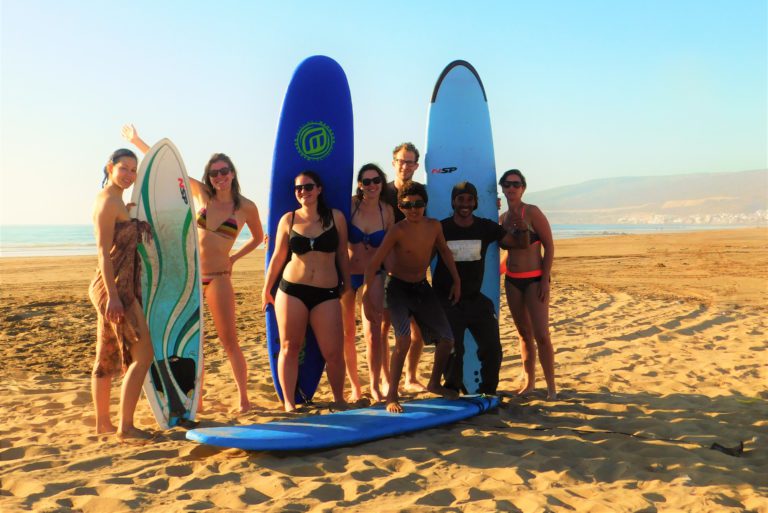 Your surfequipment at Surf Paradise Morocco
At Surf Paradise Morocco you can both rent surfboards and wetsuits. we always use the highest quality surf equipment to ensure your safety. You can choose between a soft top (suitable for novice surfers) or a hardboard. We have many different sizes and volumes. We take the time to choose a suitable board for you. This depends on your surf level, your size, and the waves that you will surf.
You wear a wetsuit while surfing. This is because you will be in the water for several hours. The wetsuit keeps you warm. Moreover, the wetsuit will also (partly) protect you against bumping your surfboard. The wetsuits that you can rent at Surf Paradise Morocco are of new quality. After every surflesson everybody is cleaning their wetsuits.

Do you bring your own wetsuit? No problem! A 3: 2 wetsuit is ideal for the Moroccan ocean temprature.
A typical surf day at surfschool Surf Paradise Morocco
10:00    We leave our surfcamp to drive to the best surfspot!
10:30    arriving at the beach
We wait for the best waves and high tide!
11:00    warming up
11:15    surf instructions on the beach
10:45    surfclasses in the water
13:00    lunch
13:30    surfclasses
14:30    free surf!
16:00    back to the surfcamp
"Times and locations are always adjusted on the swell and tides."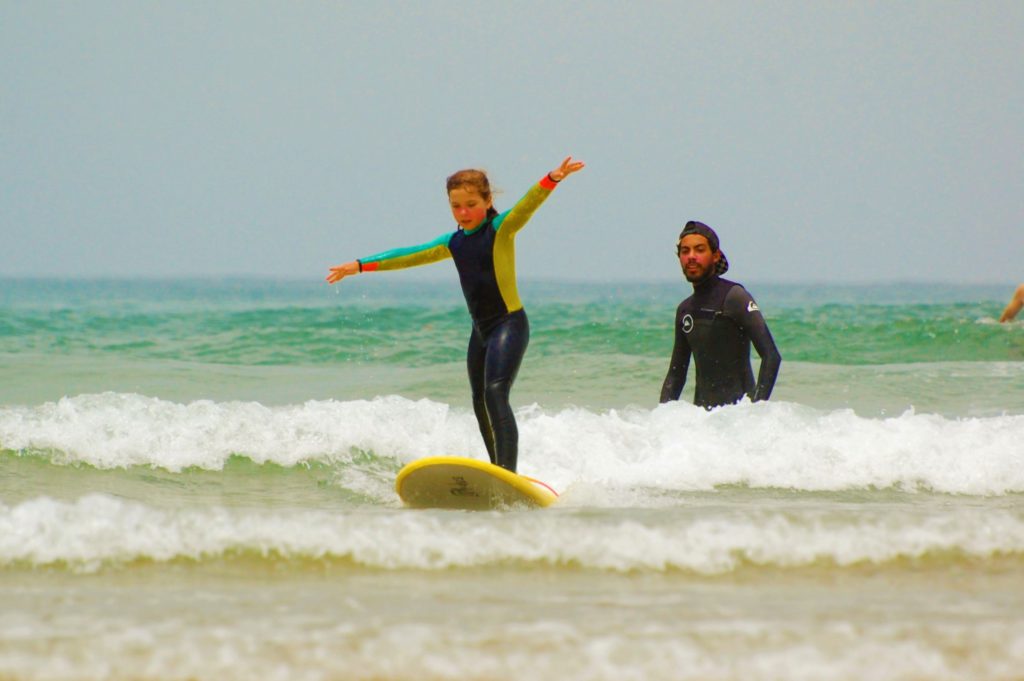 Surfschool Surf PAradise Morocco - our classes
The surf in Morocco is perfect for beginners! Most common surflessons are starting with all detailed information and a lot of different techniques. It seems to be really difficult to surf. Study shows that when you get to much information your brains will not progress everything, and your body will block when you try to surf.
But learning how to surf can be possible for  everyone!
During our surflessons we use a 3 step methode.
We focus on 3 simple things. This makes learning how to surf much fast and easy!
Looking for a surfschool that can bring your surf really to the next level? Looking for great waves and empty line-ups? Surf Paradise Morocco offers great surfcoaching from a pro-surfer. We will bring you to the waves and surf in Morocco that are fantastic to improve your surfstyle! Nothing is more annoying then surfing below your level in beginner surflessons. Thats why we offer surfcoaching for intermediate surfers. We go with you in the water to work one on one to improve your surfing skills.
Are you an advanced and experienced surfer? This is the perfect way to explore to moroccan coastline and surf in Morocco as much as possible! Whether you want to surf around Rabat or Taghazout, we have the experience and knowledge of all Moroccan coast to show you the best and secret surfspots of the area! You don't have to waste any time by searching good surfspots or surf bad waves. Our experienced local surfguide brings you excactly to the place where the surf is pumping at that time. We will help you to surf as much as possible and search the best waves for your abilities.

Pick a program that best fits your schedule and goals for your ideal holiday to surf in Morocco
2 times coaching / lessons
Surfboard & wetsuit rental
Transport to the surfspots
Information about the spots