Most of the surfcamps are full of young people who seek for adventures, party and meeting like-minded people. But are you always that fella in between all the youngsters? Now Surf Paradise Morocco is organising a week specially for YOU!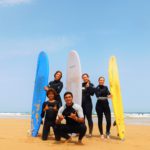 Go to surf & meet other like-minded surfers!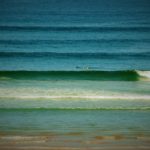 Surfing on beautiful surfspots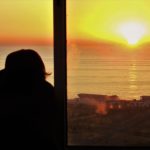 Stay in the beachfront surfhouse in Morocco
Explore the nightlife of Agadir!
You're also looking for surfvibes, sun, a tropical beachlife in surfcamp style without all that youngsters around you? Then the 30+ surfcamp at Surf Paradise Morocco is THE great destination for you! During the 4 surfdays you will have 6 hours of surflessons for beginner or intermediate surfers. For the advanced surfers there is a surfguide showing you the best spots around.
The surflessons, coaching and guidings are given by Moroccan Pro-surfer Zouhir Houmay and his team. The lessons are professional and given by certificated instructors. You will surf every day on the Moroccan coastline on surprising surfspots. Daily surflessons and more than 25 hours of surffun!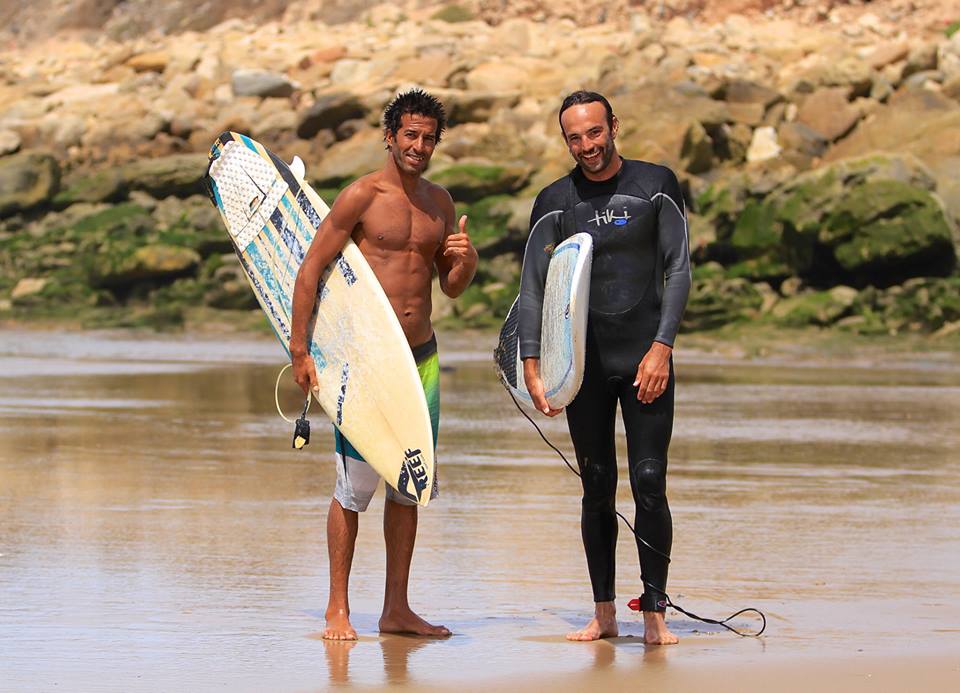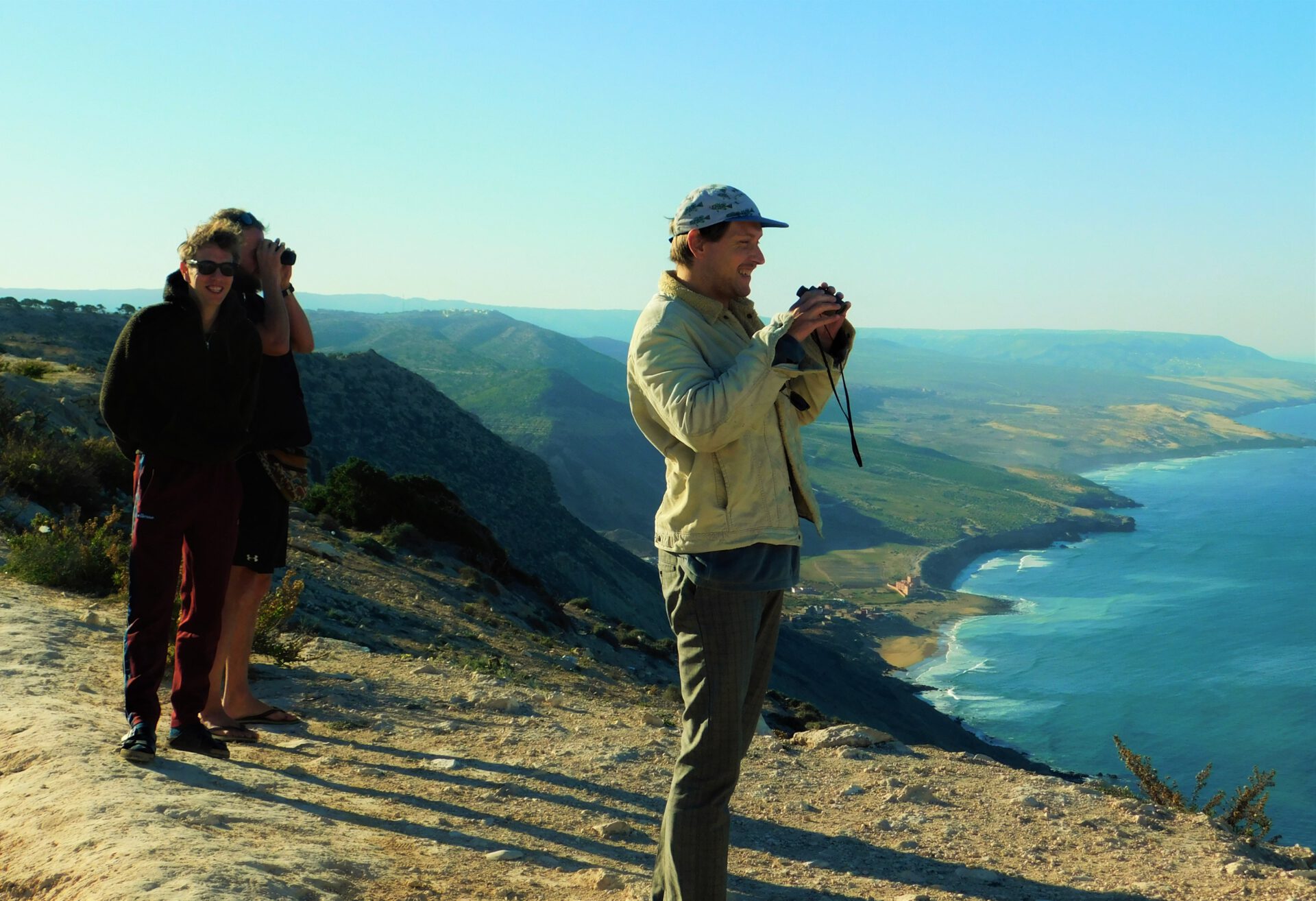 The surfcamp of Surf Paradise Morocco is located in the South of Morocco, 3 KM from Taghazout and 15 KM from Agadir. Tamraght is a small fishers and surfers village that is not overcrowded with tourists yet. The surfcamp is located next to the beach, and has a panoramic view over the bay.
The Moroccan coastline is blessed with fantastic waves and beautiful beaches. We surf on that beaches that are suitable for your level. It means that we surf on different spots in the area. So you can explore the coastline and surf the best waves!
The surfcamp of Surf Paradise Morocco is a fantastic homely place where surfers from all over the world comes together. With a spectaculair view over the ocean, tropical garden and Western facilities it is a great and comfortable stay.
 During the surfcamp for 30+ in summer 2019 you will stay in a shared room with maximum 8 persons. Do you prefer to stay in a private double or single room? For 50 EUR p.p.p.w. you can book your own comfortable private double room and 100 EUR p.p.p.w. for a private single room!
The sunny terrace, tropical garden and the open kitchen are the places where you meet other like-minded surfers, have a drink together, enjoying a campfire and make friends of a lifetime!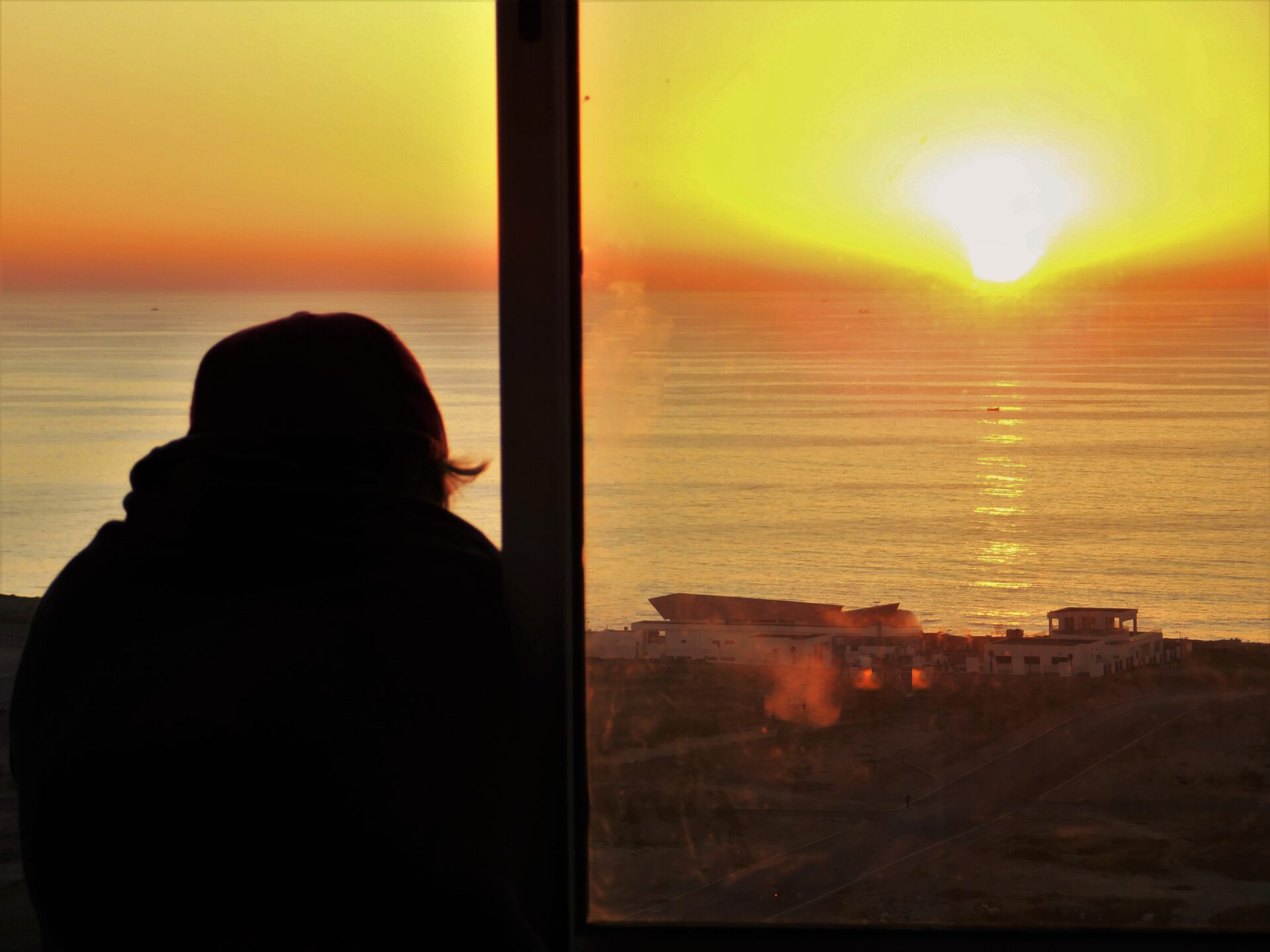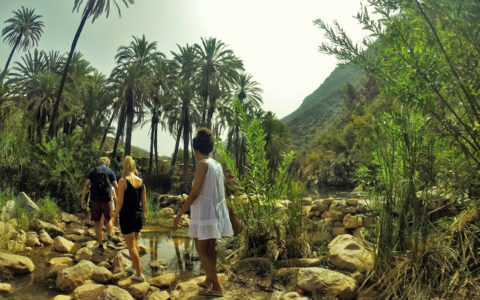 We are a surfcamp, there is so much more to do! Join the daily sunset yoga lessons on our rooftop, go on expedition to Paradise Valley on your free day or visit the souks of Agadir. Besides surfing you can join the following activities during the student surfcamp:
Without any extra costs:
Daytrip: Expedition Paradise Valley
Campfire party
Hike to the mountains of Tamraght
Moroccan night
Game-night
Surf workshops
With extra contribution
Daytrip: Sandboarding in the small Sahara
Daytrip: The souks of Agadir
Explore the nightlife of Agadir
Hammam & Massage
Quadtour
09:00 Breakfast
10:30 Start surflessons/coaching
13:00 Delicious beachlunch
14:00 Surftaining part 2
16:00 Back in the surfcamp
18:00 Yoga/ sunset surfsession
20:00 Dinner on the rooftop
21:00 Campfire & party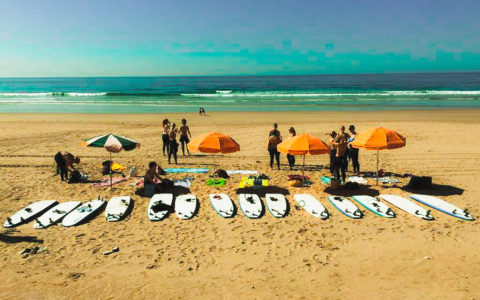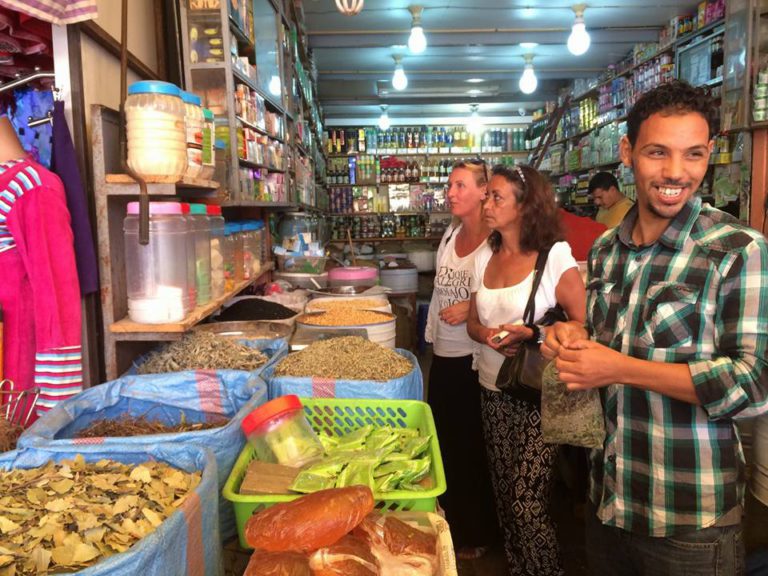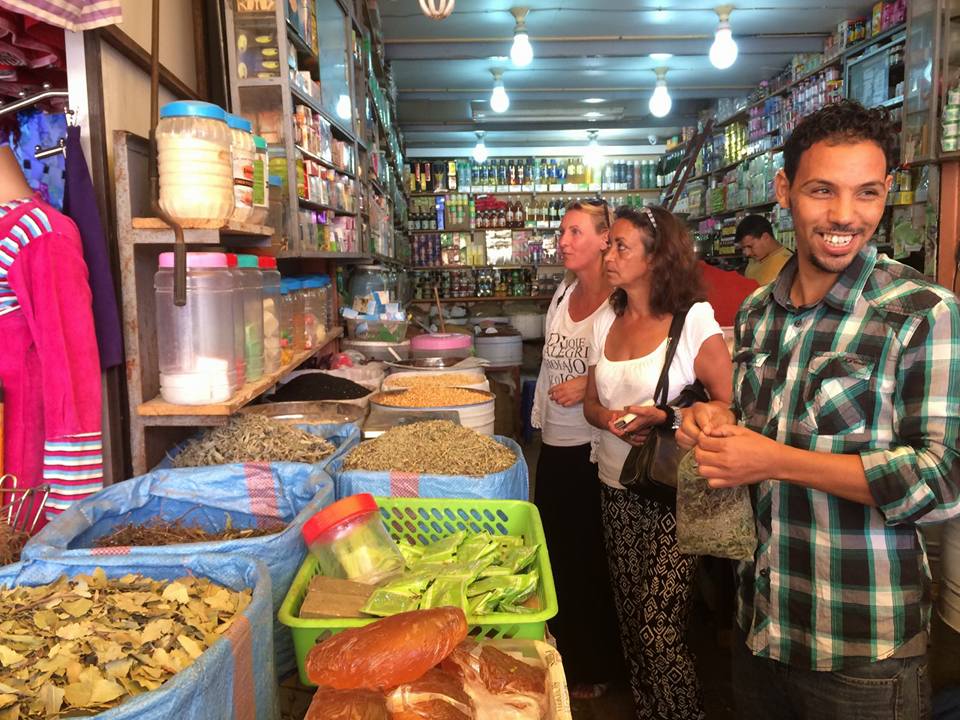 Meals and other practicals
Meals:
In the basic 30+ surfcamp 2019 package are daily breakfast & beachlunches included. This are delicious fresh home-made meals that are based on a surfers diet. Also 5 evening meals are included during your stay. 
Transport:
Your holiday will start in Agadir Aiport. From here you will get picked up by our airport transfer. It takes around 1 our driving to the surfcamp. The transport to the surflessons are included. Would you like to go to Taghazout or Agadir? There are plenty of options for public transport of reservate a taxi at our office!
Surfequipment:
During the 4 surfdays the surfequipment is included. We have wetsuits in all sizes and softboards/hardboards available. Our surfinstructors will help you with choosing the right equipment for your level. Would you like to bring your own surfgear? Check with your airline company for the possibilities! Make sure that your equipment is not assured. You can take the Surf Paradise Morocco surfequipment assurance to cover any damage!
Who can join:
Are you 30+? Then we are more than happy to welcome you! Single travellers and groups are welcome. Also all surflevels are welcome! Follow the sign up instructions on this page to complete your reservation!
Take a look at the 30+ surfcamp!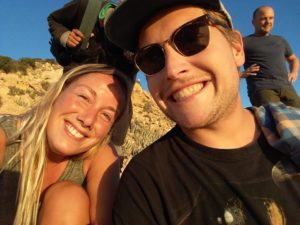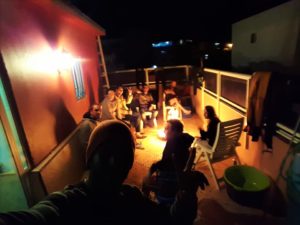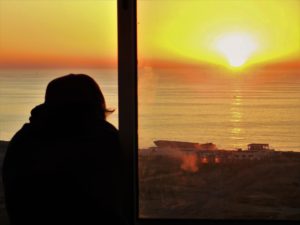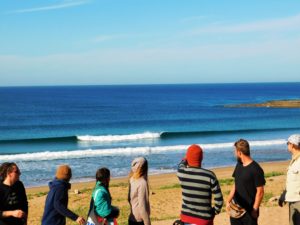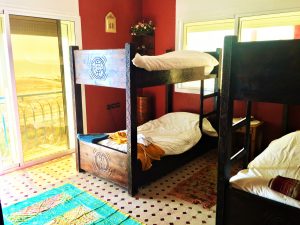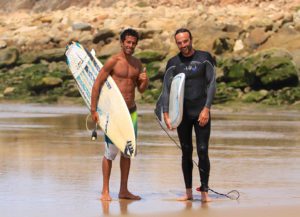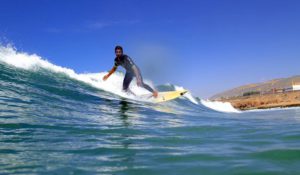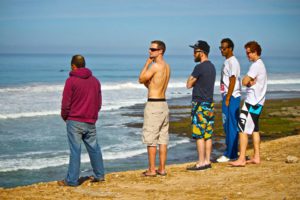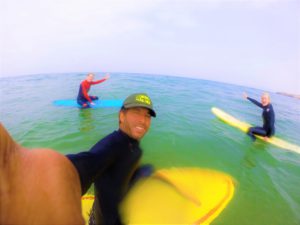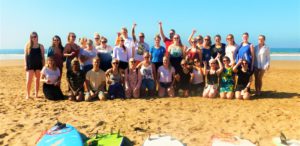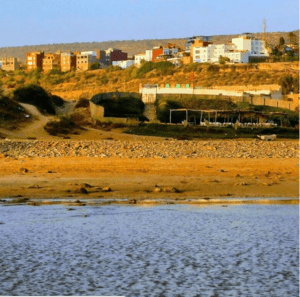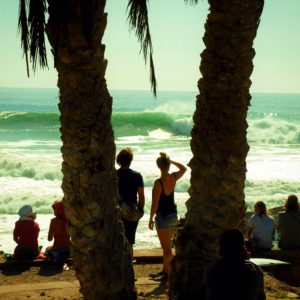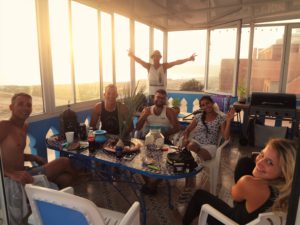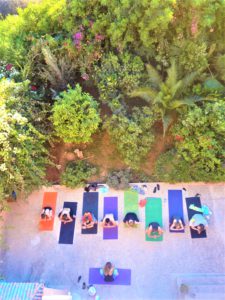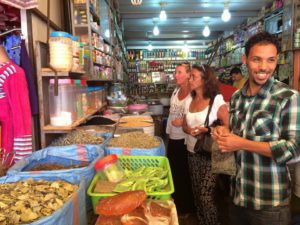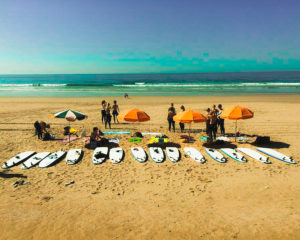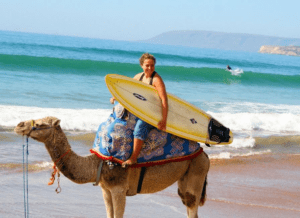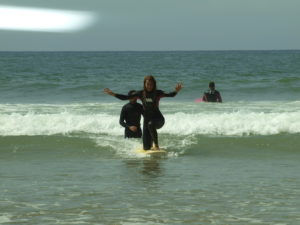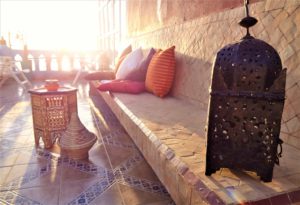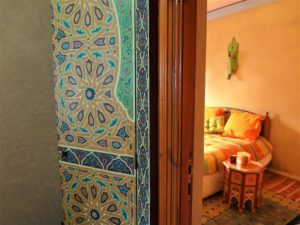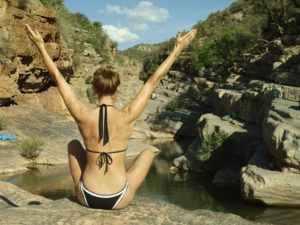 Price: € 399, – p.p.
Maximum 20 surfers per week!
Age: 30+
We would love to welcome you to our gorgeous surfhouse in Tamraght