–
With Surf Paradise Morocco –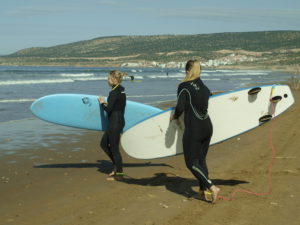 The Surf Paradise Morocco surfinstructors have given over 10,000 persons their first surfing experience. Some people are really confident in the waves from the first moment, while other people are intimidated by just being in the ocean environment. At the end, everyone, without exception, thoroughly enjoys their first day surfing in Morocco.
How to start
During your first surflesson you will never be out of your depth and everything will first be explained to you to build up your confidence. Towards the end of your stay with us you will have the chance to push yourself as far as you would like to go, but we start with the basics. In the moring we leave the hotel with surfgear to the best surfspots of the day. You will meet your surfinstructor in the hotel.
Your first time on the board!
Once at the beach your session will start with a warming up, followed by theory of surfing and practicing on the sand. Then you will go into the water with your surfinstructor. You will not be thrown in the deep, literally or metaphorically. Whether you are a natural talent or not, the coaches have coached a lot more surfers like you, so just relax and enjoy the waves, ocean, nice tempratures and try to feel the stoke of catching your first wave!
Stand up and more fun in the water
Standing up on your board is one of many things that you will learn during your surflessons. But this is not the only step in your beginning process! You will also learn the following techniques during your first surfday: use your body weight to get balance, the position on your board and paddling techniques to catch your waves. After the first 2 hours in the water you will take a rest on the beach and enjoy a delicious beach-lunch to recover and get fresh energy!
After your first surflesson
In the afternoon you will have a chance to practice the techniques you have learned in the morning on different waves. Your first day of surfing will finish with a cooling down and maybe an sunset yoga lesson to stretch your muscles gently (your body will be really thankful for this!). After this day you will go to the next steps of your learning process, this steps are different for everybody. Maybe you have to practice your standing up movement more or you will learn to catch the right waves, or you will learn to catch 'open waves', it all depends on your individual level.
We have to warn you for one thing: Your first surf lesson is dangerous because the minute you catch your first wave, you're a goner. Hooked. You belong to the sea now, and everything else, well, kind of falls away. So be prepared and welcome in our surfworld!